Market Trends
Coastal Boutique Hotels Market Trends
From Half Moon Bay in the north to San Luis Obispo, Point Conception and Solvang in the south, the greater California Central Coast is one of the world most beautiful and popular travel destinations. Hotel and B&B market conditions are impacted by national trends, but the special nature of the Central Coast means that property owners and buyers need to be aware of the important local factors that determine property values. Visit this page often for updated information on market trends.
Coastal Scarcity Enhances Value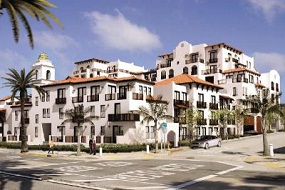 Recently the Santa Cruz La Bahia hotel development was shot down by the Coastal Commission after years in the planning and approval process. Because of the many barriers to entry, existing hotel / B&B properties will continue to be extremely scarce in desirable coastal areas.
In desirable coastal areas the value of a property is determined by more than the cap rate (the ratio of property price to annual cash flow.) It often said that they making any more coastline A property owner must consider not only the annual return on invested capital but also the long term opportunity for the underlying real estate asset to appreciate. In many areas it is almost impossible to build a new hotel. Recently in Santa Cruz the Coastal Commission torpedoed a proposed new hotel development that would have revitalized a depressed area, and that had the full support of the City Council. Barriers to entry include water restrictions, restrictive zoning, city or county or Coastal Commission opposition, and so on. In 2011, Northern California hotel sales prices increased by over 16%, much faster than the rate at which average room rates and occupancy rates are increasing.(Source: Atlas Hospitality Group.) We conclude that underlying real estate values are therefore rebounding strongly from post-2008 lows. Both residential and commercial real estate are in short supply in coast areas, and the shortage means a steady rise in real estate values over the long term.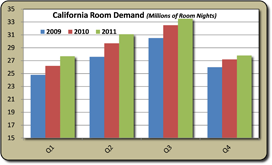 California Room Demand
The past few years have seen strong growth in the number of room-nights sold in our state.
California is the number one travel destination in the United States
. In 2010, approximately
200 million visitors
generated
$95.1 billion in spending
on goods and services in the state. Visitor spending directly supported
jobs for 873,000
Californians and resulted in $6.1 billion in direct state and local tax revenues.
Room demand has increased in every quarter
during 2009-2011, an average annual rate of increase of 5.2%. (Sources: Dean Runyan Associates / Smith Travel Research Reports prepared for the California Travel and Tourism Commission.)
Central Coast Room Revenue Trends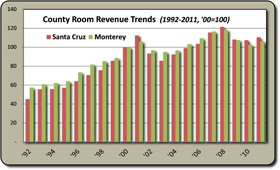 Total room revenue has shown excellent long term growth in the California Central Coast. For example, if we look at Santa Cruz and Monterey Counties we see a dip in the post-2001 period and a dip in the post-2008 period. In 2010-2011, both counties show resumed growth. And if we look at two decades of data we see that despite ups and downs, there is clear long term upward momentum. Similar trends are evident elsewhere in the Central Coast. (Sources: Dean Runyan Associates / Smith Travel Research Reports prepared for the California Travel and Tourism Commission.)
The Importance of Online Reviews
If you own a hotel or B&B property, online reviews can make a big difference in occupancy rates (and thereby also impact average daily rates as well.) One popular review site, TripAdvisor.com, gives this advice: This gives great insight for new travelers, but it also creates a place where hotels could, if not constantly updated, get horrible reviews without any means of defending themselves or at least apologize. It's important that all hoteliers create profiles for their hotels or chains, so they can upload fresh images themselves and answer their customers online. Many guests find it easier to write a bad review on a site like TripAdvisor.com than placing an email or phone call directly to the hotel. If the hotel is not on top of this, you might experience a loss of cust0mers directly linked to the reviews online.
quick search
Find a Business For Sale
business listings
Private Boutique Property Listings (HOT-PRIVATE)

$0.00
Central Coast, California